Description
There's a lot to see and experience in the Russian Federation, and it all can be achieved with the help of a visa to Russia.
As Russia is the largest country in the world, it has a wide variety of locales to travel to: from sprawling megalopolises to relict forests and beautiful mountains and lakes. Come to Russia for a weekend, and you will have some of the most sights-saturated time of your life.
Travelling from Dubai, you will be treated to a country with a unique culture and nature to match it. Go on a tour to Russia, and you will see it!
Visas will be issued according to the dates mentioned on the application form.
The passport must be valid for at least six months.
Other necessary documents will be determined by the our company at the time of application
Pickup and Drop off service by request.
Please be informed all above prices are subject to change and depend on nationality and special requirements.
---
This is a non-government site and whilst every endeavor is made to ensure the information is correct and up to date, there may be changes which we are not aware of. It is always a good idea to check the latest regulations. You should confirm details with your local Russian Consular Office.
Russian visa example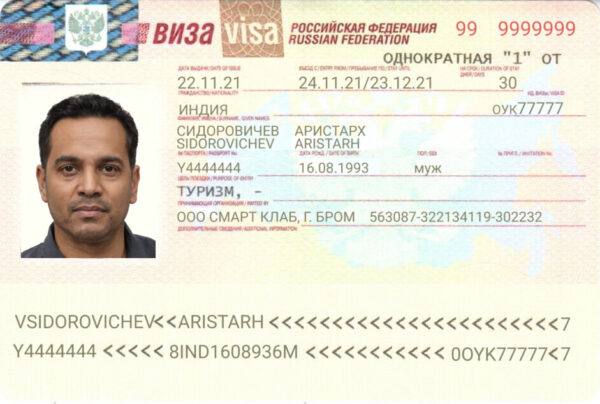 FAQ
WILL IT BE DIFFICULT FOR ME TO VISIT RUSSIA IF I DON'T SPEAK RUSSIAN?
Not at all. Our guide will accompany you on tours, and besides, many Russians – especially those in the service industry – speak English.
WHAT ARE SOME MUST-SEE SIGHTS IN RUSSIA?
There are too many to even number, but the most significant are the Kremlin, the Tretyakov Gallery (Moscow), the Hermitage Museum, the Winter Palace, and the bascule bridges (St. Petersburg), the Baikal (Siberia).
WHAT CAN I PAY FOR GOODS AND SERVICES IN RUSSIA WITH?
The local currency is the Russian ruble. You can use any of the currency exchanges in the city to exchange your money into rubles.
WHAT SHOULD I BRING WITH ME TO RUSSIA?
If you are going during winter time, a set of warm clothes for every person would be a good idea, as the Russian climate is much colder than that of the UAE.
ARE THERE SOME SPECIFIC TRADITIONS AND CUSTOMS IN RUSSIA I SHOULD BE AWARE OF?
While there are many, you will be absolutely fine as long as you simply follow the basics of etiquette and politeness.
How long does the visa process take?
Firstly, the process can be urgent or normal and lasts from 2-3 business days to 5-6 business days after submission to the Consulate General. Secondly, there are also a number of nationalities for which the process of obtaining a tourist visa can take up to 30 days after submitting documents to the Consulate General. However, it is important to note that the Consulate General is entitled to change processing time, requirements and fees without notice.
Do you need my original passport to apply for a visa?
Since a visa is a sticker, of course, you must present your original passport.
What is the visa validity period?
A tourist visa can be valid for a maximum of 30 days.The validity of the visa is fixed by dates. You can enter Russia starting from the first day of the validity of the visa, but you must leave no later than the date marked as the expiry date of the visa.
How many days can I stay in Russia if my visa is a multiple entry business visa?
A multiple entry business visa allows nationals of all countries to stay in Russia up to 90 days out of the period of 180 days.
Can I travel to Russia after receiving a new passport using the visa that is in the old passport?
If you have renewed your passport which contains valid Russian visa issued by the Consulate General , you need to apply for a visa transfer to your renewed passport.
What documents do you need from me to apply for a visa?
In most cases, the original passport and a printed photo are enough for us. However, before applying for a visa, you should contact us and clarify the list of documents. So, for example, you may need a hotel reservation, bank statement, or other documents.
Can my visa be rejected?
In certain cases Visa can be denied if the Consulate General has serious reasons to believe that an applicant's entry into or stay in the territory of the Russian Federation will not be desirable.
Do children need a visa to Russia?
The need to obtain visas does not depend on age.
Do you need my personal presence at the consulate when you submit my application?
We submit documents ourselves, without your presence, however, please remember that any visa applicant may be interviewed by the Consular Officer, if necessary. The Consulate General also avails itself of the right to invite the applicants for an interview and request, if needed, additional documents.
Can all nationalities apply for a visa to Russia?
Yes, absolutely all nationalities, without exception, have the right to apply for a visa to Russia.
What are the requirements for a passport?
Passport should have at least two clear visa page and it must be valid not less than six months after the visa expiration date.
Can I change the visa validity date after it has been issued?
Type of visa or dates of entry/departure cannot be changed. If your travel plans have changed after the visa issuance you have to reapply for a new visa;
Can a visa be extended?
Type of visa or dates of entry/departure can not be extended. If your travel plans have changed after the visa issuance you have to reapply for a new visa;