Description
There's a lot to see and experience in the Russian Federation, and it all can be achieved with the help of a visa to Russia.
As Russia is the largest country in the world, it has a wide variety of locales to travel to: from sprawling megalopolises to relict forests and beautiful mountains and lakes. Come to Russia for a weekend, and you will have some of the most sights-saturated time of your life.
Travelling from Dubai, you will be treated to a country with a unique culture and nature to match it. Go on a tour to Russia, and you will see it!
Visas will be issued according to the dates mentioned on the application form.
The passport must be valid for at least six months.
Other necessary documents will be determined by the our company at the time of application
Pickup and Drop off service by request.
Please be informed all above prices are subject to change and depend on nationality and special requirements.
---
This is a non-government site and whilst every endeavor is made to ensure the information is correct and up to date, there may be changes which we are not aware of. It is always a good idea to check the latest regulations. You should confirm details with your local Russian Consular Office.
Russian visa example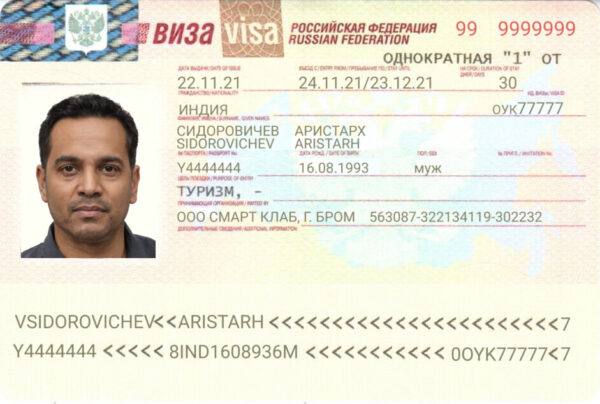 FAQ
WILL IT BE DIFFICULT FOR ME TO VISIT RUSSIA IF I DON'T SPEAK RUSSIAN?
Not at all. Our guide will accompany you on tours, and besides, many Russians – especially those in the service industry – speak English.
WHAT ARE SOME MUST-SEE SIGHTS IN RUSSIA?
There are too many to even number, but the most significant are the Kremlin, the Tretyakov Gallery (Moscow), the Hermitage Museum, the Winter Palace, and the bascule bridges (St. Petersburg), the Baikal (Siberia).
WHAT CAN I PAY FOR GOODS AND SERVICES IN RUSSIA WITH?
The local currency is the Russian ruble. You can use any of the currency exchanges in the city to exchange your money into rubles.
WHAT SHOULD I BRING WITH ME TO RUSSIA?
If you are going during winter time, a set of warm clothes for every person would be a good idea, as the Russian climate is much colder than that of the UAE.
ARE THERE SOME SPECIFIC TRADITIONS AND CUSTOMS IN RUSSIA I SHOULD BE AWARE OF?
While there are many, you will be absolutely fine as long as you simply follow the basics of etiquette and politeness.